Best of Ignite Concert - 5 December 2020
Sherwood State School Hall

with Good Vibrations Band
After a year of commitment to our community, we are thrilled to present our Best of Ignite concert featuring our favourite repertoire from the last five years.

This is our fifth year as an independent choir, and we are preparing to entertain you with choral ensemble numbers, duets, and solo performances.

For anyone who has previously enjoyed an Ignite Choir Concert,

you know it will be special and especially so after a uncertain and challenging year.




There are limitations to our audience numbers but two shows to choose from, so we hope to see you there
(bookings open 10am Sunday 8th November.)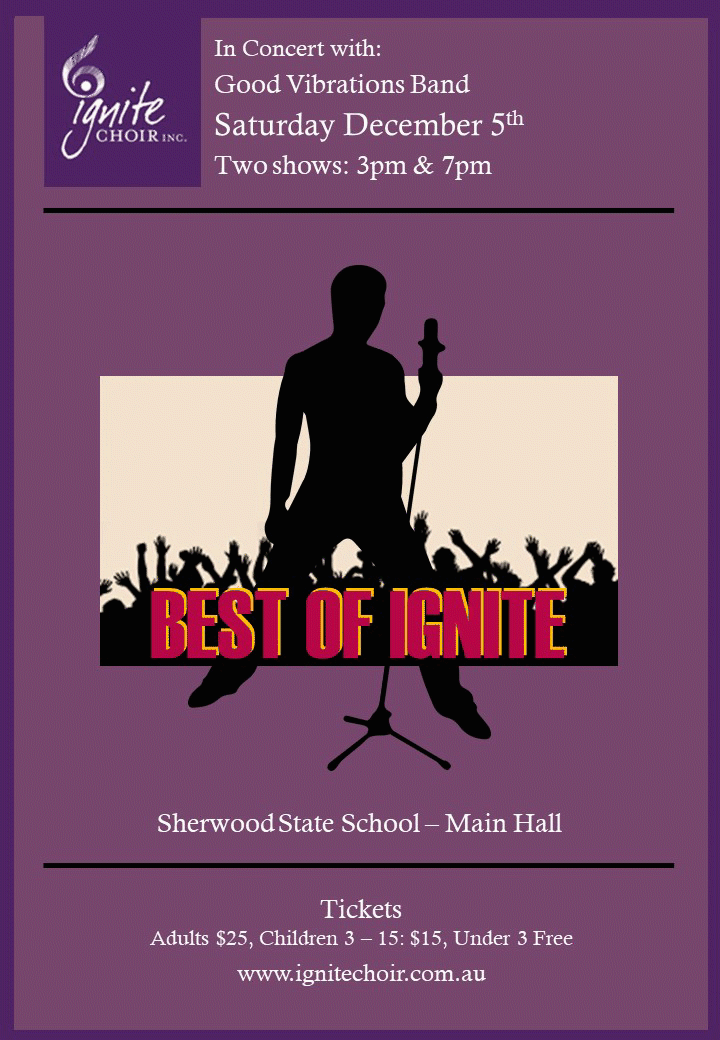 Founded in 2005, ignite choir was created to fulfill the needs of Ignatians Musical Society members who were unable to be involved in full scale performances. The choir is an un-auditioned, so anyone is welcome to join and no previous experience is necessary - although a significant number of the choir members have been involved in Ignatians musicals in the past. We cover a wide range of styles – from classical to Gilbert & Sullivan, Broadway to pop – which means there's sure to be some repertoire to suit your interests.​
COVid 19 update: Hybrid Ignite continues - TERM 4 from Tuesday 6th October (pre-enrolment required)
The Ignite committee is working together to keep our community singing.
There are two types of registration available:
1. Hybrid Ignite - a mix of online and live rehearsals (limited numbers)
2. Virtual Ignite - 100% online rehearsals (unlimited numbers)
MEMBERSHIP REGISTRATION IS NOW CLOSED
We have now closed new member registration as we work on our "Best of Ignite" repertoire, reliving some of the most memorable songs of our past five years.
The hope is that we will have an opportunity to perform this repertoire at a concert in December. More information will be released about this performance soon. The Ignite Committee continues to work hard to maintain safety and community in these difficult times.
Please do not hesitate to ask any questions that you have via email to [email protected] An don't forget to like our Facebook page and follow us on Instagram for even more updates and information

General information

Ignite LIVE rehearses on TUESDAY nights at Sherwood State School, NEW Hall - Sherwood Rd, Sherwood.
We rehearse from 7:15pm - 8:45pm (no social time available at live rehearsals) and sessions generally follow the school term dates with a break over the school holiday periods.
Epiphanies of Stage and Screen 2019
Jazzmas Concert 27 July 2019
60's and Soul Concert (27 Apr 2019)
Magic Music Concert (11 Nov 2018)
Saturday Night Fever 70's Cabaret Concert, 28th April 2018
/